Gene's Andalucian Valley Chicken #RSC
erotter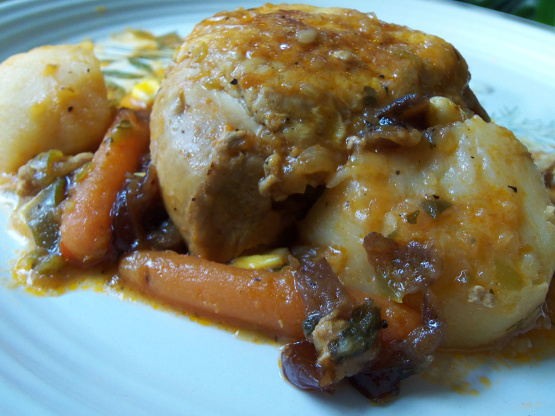 Ready, Set, Cook! Hidden Valley Contest Entry. My mom being of Spanish heritage had many delicious recipes that she would make for special friends and dinner parties. This is one of my favorites because it has a hint of romance and flavors. This is my variation on her recipe. Enjoy !
Soak the dried cranberries in the Sherry for at least 1 hour.
Combine the shallots, red onion, parsley, lemon juice and orange juice in a large bowl and mix well.
Marinate the chicken breast pieces in this mix for about 5 minutes.
In a separate bowl, mix the Package of Hidden Valley Original Ranch Seasoning Mix with the Onion Powder and Garlic Powder.
Remove the chicken from the marinade* ( Do not Discard ).
Dredge and Coat each piece of Chicken Breast with the dry mixture.
Heat Olive Oil in a large Pot, to medium high and brown chicken breast pieces.
When done, remove chicken breasts from pot.
Add the* Marinade Mix to the pot, stir and cook for 3 minutes.
Pour the soaked cranberries with the Sherry into the Pot and mix.
Add red potatoes, carrots, almonds, olives and bay leaf to Pot.
Add the Chicken and water.
Gently mix all ingredients together and add salt and pepper to taste.
Bring heat to medium, cover and cook for about 30 minutes, stirring occasionally.
After 30 minutes add the corn, stir and cover.
Lower heat to Simmer for an additional 30 minutes.
Arrange Chicken Pieces and Vegetables in a Serving Platter.