CandyTX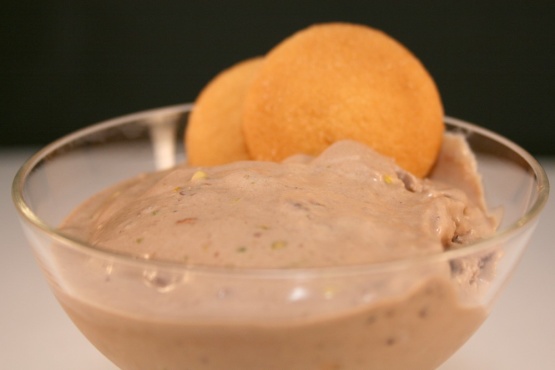 The Flying Dutchess' ice cream for ZWT 4. This is divine and a duchess' worthy. Just try it and indulge!

For me this was spot on...........I am not a lover of overly sweet desserts, so this had all that I needed....fruit, nuts and cream as well as delicious mascarpone. The cocount also added natural sweetness to the sauce, which enhanced the gelato. I used my ice cream maker and it worked perfectly! I MIGHT omit the cranberries next time, as I think that this was just perfect with the nuts and orange! Made for ZWT4 - merci Maito! FT:-)
Whip 200 ml of cream.
Stir together the mascarpone and the milk. Add the cocoa and the orange zest.
Carefully mix in the cream.
Put this mixture in the icecream maker. And let turn 5-10 minutes.
Add the cranberries and the pistachios to the mixture in the icecream maker.
Let turn until done. Pour in a container and freeze for a few more hours.
At serving time, make the sauce.
Pour the cream and the chocolate chips in a glass bowl and melt over a hot water bath. When you have a smooth sauce add the grated coconut.
Put 2-3 scoops of icecream in a beautiful bowl, pour some hot sauce over and decorate with an ice cream wafer.
You can add some fresh fruit if you like.
Enjoy!