Gefilte Fish Appetizer (Doctored from the Jar)
eabeler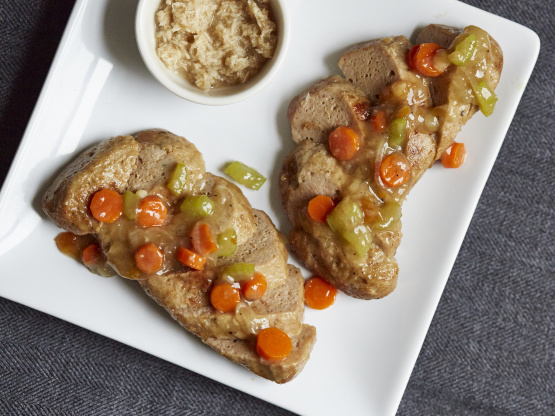 This is a recipe from my Aunt, Rosalee Patrick (my Mother's deceased sister), for doctoring gefilte fish from the jar and making it taste as if it were made from scratch. Trust me, IT'S GREAT! Thank you Aunt Rosalee, wherever you are...

Followed the recipe and it did indeed come out disappointingly dry. I intended to use the gefilte fish as a main course though my husband historically viewed it as an appetizer. A late moment of inspiration and I mixed several splashes of sriracha hot chili sauce with chicken bone broth (used earlier to mash potatoes) and spooned it over the dry fish. He said that he enjoyed it more than he thought he would.
Place very little olive oil in a pot over medium heat.
Add the onion and just slightly brown.
Add the pieces of fish and the fish geletin, carrots, celery and pepper to taste.
Raise heat to high and bring to a boil and then reduce the heat back to medium or medium-low and simmer 8 to 10 minutes… Remove from heat.
Take the pieces of fish out of the pot very gently and cool on a platter.
Reserve the vegetables.
Slightly oil a cookie sheet.
Lay the pieces of fish onto the slightly oiled cookie sheet and turn the fish over, so that both sides of the fish are oiled. Place the fish into a pre-heated 350 degree oven for 10 minutes.
Turn the fish over and bake another 10 minutes, or until the fish is slightly browned. Remove from oven and refrigerate. Serve with the reserved vegetables and horseradish.