Geez That's Good ! Lemon Garlic Cream Sauce for Pasta
jfkid89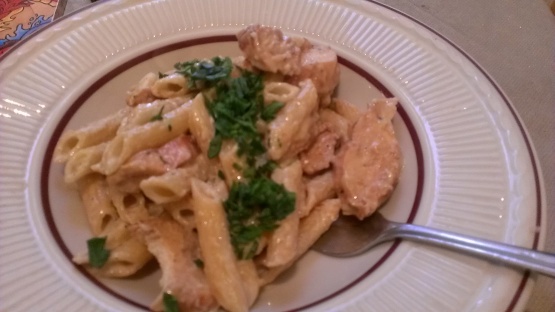 So good it should be illegal! You can tweak this one to your own preferences...but it's great just as it is! And from start to finish, you are done in less than 30 minutes. Eat your heart out Rachael Ray!

Wow.. this was delicious. I used fresh garlic and sun dried tomatoes... crushed red pepper.. . and thinned it out with a little chicken broth. This recipe has many possibilities. It got rave reviews from my company. They licked their plates.
Heat cream in skillet until just about to boil. Add zest and juice of one lemon. It will immediately start to thicken.
Turn heat down to low. Add garlic powder and salt. Stir for 1 minute.
Add cheese and stir until melted.
Serve over your favorite pasta. We like angel hair cause it's done at about the same time your sauce gets finished.
I often add cooked shrimp or meatballs (the Italian baked ones from this site are excellent). But bacon or sausage is also good.