JustJanS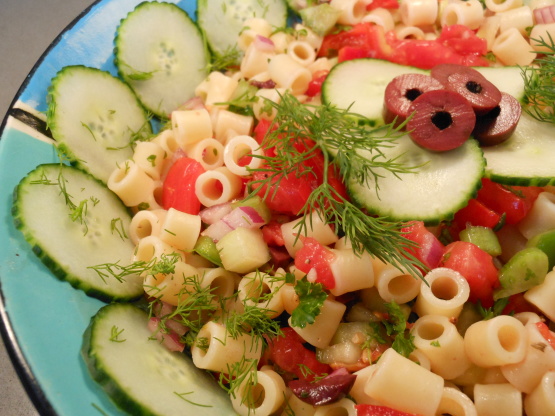 Although Gazpacho is traditionally an uncooked soup of pureed fresh vegetables, this recipe combines the chopped vegetables with pasta in the form of a salad. Prep time does not include marinating time.

Another winning recipe thanks Nancy! This was so simple to make and really, really refreshing and yummy to eat. I loved the fact it was so very low in fat, but so flavourful. I made a half recipe for the two of us-I think it would have been enough for 4 (less greedy than us) people!
4

ounces uncooked macaroni
2 1⁄2 cups tomatoes, seeded and chopped

1

cup red onion, finely chopped

1

cup cucumber, finely chopped
1⁄2 cup celery, finely chopped
1⁄2 cup green bell pepper, finely chopped (or yellow or orange)
1⁄2 cup red bell pepper, finely chopped

2

tablespoons black olives, finely chopped

3

tablespoons cider vinegar (or red wine vinegar)

1

bay leaf

2

tablespoons fresh parsley, minced (or 1 tsp. dried parsley)

1

tablespoon fresh thyme, minced (or 1/2 tsp. dried thyme leaves)

1

garlic clove, minced

3 -4

dashes hot pepper sauce
1⁄4 teaspoon ground black pepper
whole olive (to garnish)
sliced cucumber (to garnish)
dill sprigs (to garnish)
Cook pasta according to package directions, omitting salt. Drain and rinse well under cold water until pasta is cool; drain well.
Combine pasta and remaining ingredients in a medium bowl. Cover and refrigerate 4 hours for flavors to blend. Remove bay leaf before serving. Garnish with whole olives, cucumber slices and dill sprigs, if desired. Can be served chilled or at room temperature.