MsSally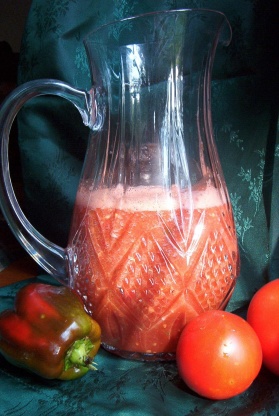 Great with BBQ on a hot summer afternoon. Liquid salad, packed with vitamins. (we have been known to add a little vodka zing! Nummmmy!!) from Canadian Living mag.

I made this like the recipe says, only I added more garlic, and I used fresh dill. I then cut up more tomatoes and cukes, diced some zucchini and celery, and served it as a soup. Served it well chilled. It was excellent!! Very good for the hot days of summer! Thanks, Dorothy!
In food processor or blender, process tomatoes, cucumber, green pepper, onion and garlic until smooth.
Stir in tomato juice, vinegar, dillweed,hot pepper sauce, and pepper to taste.
Refrigerate at least 1 hour or until chilled.
Pour into glasses, garnish with alfalfa sprouts.