originally from Top Secret Recipes by Todd Wilbur http://www.topsecretrecipes.com
1 package unsweetened Kool-Aid powdered drink mix (any flavor)
2 quarts cold water
1⁄2 cup sugar
1⁄2 teaspoon salt
1⁄2 cup orange juice
Directions
Mix together.
This equals the electrolyte replacement found in many popular drinks on the market.
Most Helpful
HOLEY MOLEY! Thanks so much!

Made this for my Gatorade drinking son and hubby. 1/2 gallon was gone in about an hour - so five stars all the way - esp since it is inexpensive and easy. The hardest part is remembering to buy koolaid and oj! Thanks for posting!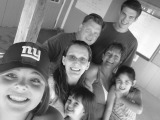 Its Crazy but true...taste like gatorade. My bf said it was like magic in the kitchen. lol thanks for posting