Gastronomic Gelato Italiano
Pneuma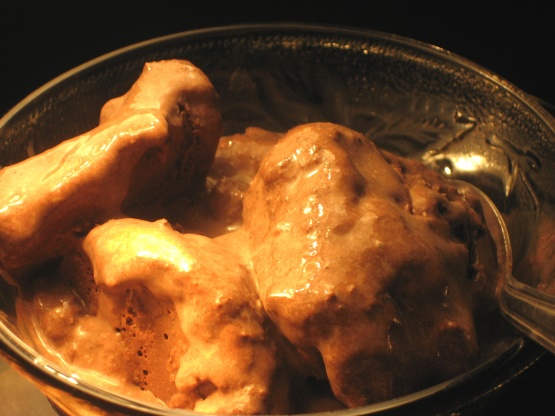 This recipe uses Stacey Sweet's Chocolate Gelato as the chocolate base to which Italian flavorings, developed by the Gastronomic Gauchos for ZWT4, have been added in the form of hazelnut liqueur and traditional Italian biscotti containing a blend of almonds, walnuts, and a hint of anise. Made so easily using your very own ice cream maker kitchen gadget. Prepare yourself for a very rich and sensual frozen delight!

This gelato is absolutely perfect for making an over-the-top affogato if one leaves out the biscotti. It works with biscotti, but I personally don't care for it floating in the affogato. Place a scoop of gelato in a small glass (stemless martini glass or New York rocks glass works great) and place in the freezer for at least a half hour. Make espresso and pour a double shot over the frozen gelato at the table. A dessert spoon is nice, but a regular tea spoon works. The hot coffee will partially melt the gelato. If you like, serve a biscotto on the side.
3⁄4 cup unsweetened cocoa powder
3⁄4 cup sugar

1

dash sea salt

1

cup milk

2

eggs, whisked
1 1⁄2 cups heavy whipping cream
1⁄4 cup Frangelico

2

biscotti, crushed, in the Italian traditional style (flavored with almonds, walnuts, and anise)
In a heavy sauce pan, whisk together the cocoa, sugar and salt.
Whisk in milk, Frangelico, and eggs.
Cook over medium heat, stirring constantly until steaming hot and starting to thicken, about 6-8 minutes.
Whisk in cream and remove from heat.
Transfer into your freezing container (for a traditional ice cream maker) or into a container with a spout (for a modern ice cream maker where the freezer requires freezing and no outside salt/ice is used in the freezing process) and chill in refrigerator for 4 hours.
When ready to freeze, if using an ice cream maker, follow your manufacturer's directions.
Add crushed biscotti during the final 10 minutes of churning in the freezer or ice cream maker.
Garnish with additional biscotti.