Stacky5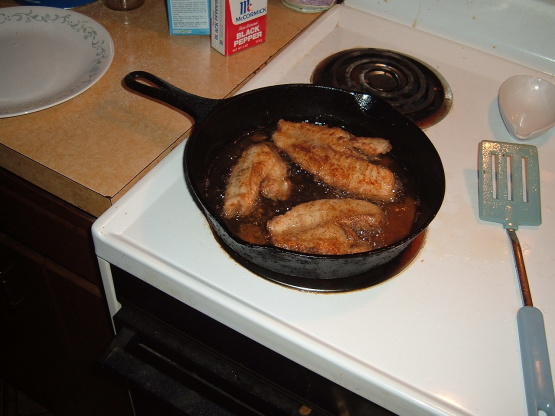 This is how my ex-DH cooks fish that he and my kids catch right here in 14-Mile Creek and Indian Creek in Southern Indiana...I hate to sound like such a simpleton, but this is the real, simple, "Mountain-Man" thing, a down-to-earth fresh fish recipe! NEVER any leftovers, although the kids get pretty grossed out watching ex-DH clean and fillet the fish!!! :) P.S. ex DH says you "Gotta have a 10" iron skillet for this one." VISUAL WARNING: The pictures were taken the last time ex-DH cooked this, and he is a VERY MESSY cook! LOL!

I love the simplicity of this recipe, and when we get fresh fish this is the first recipe I think about. So good! We have made it several times now and its always a winner for us!
2

lbs bass fillets, 8 (cleaned and de-boned)

2

cups whole milk

1 -2

cup flour (extra-fine)
1⁄2 teaspoon paprika

1

dash salt & pepper

3

cups Crisco
Place cleaned & deboned bass fillets (preferably small-mouth bass - but works with large-mouth & bluegill fillets too -- ) in a large zip-lock bag.
Cover with milk and seal bag. Refrigerate overnight.
Next day, dry fillets on paper towels. Season both sides with Paprika, salt & pepper (to taste).
Coat each fillet with Wondra Flour.
Meanwhile, preheat Crisco in iron skillet on medium-high heat.
Fry fillets in 1/2" of melted & hot Crisco on medium-high heat. For about 3 minutes on each side, until golden brown.
Drain on paper towels when done.