Boomette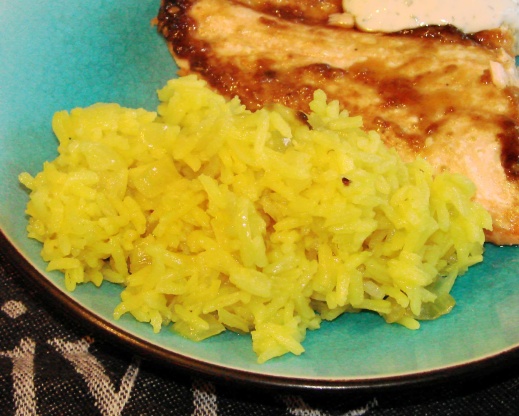 This is a nice rice to make especially when you want a nice color contrast. With the turmeric, it colors the dish a dark yellow. From Quick and Easy Weeknights.

This was a great basic rice recipe! It came together quickly and easily and was super tasty! The turmeric, garlic and (spring) onions made for a lovely flavour combination.
I used a mix of wild rice, rice, barley, oat kernels and buckwheat instead of just plain rice and that worked out really well.
THANK YOU SO MUCH for sharing this keeper with us, lazyme. Made and reviewed for WTTM December 2010.
Heat oil in a large nonstick skillet over medium heat.
Add onion, and saute 7 minutes or until tender.
Add rice and garlic; saute 2 minutes.
Add water and next 3 ingredients; bring to a boil.
Cover, reduce heat, and simmer 23 minutes or until liquid is absorbed.
Garnish with green onion tops, if desired.