Bergy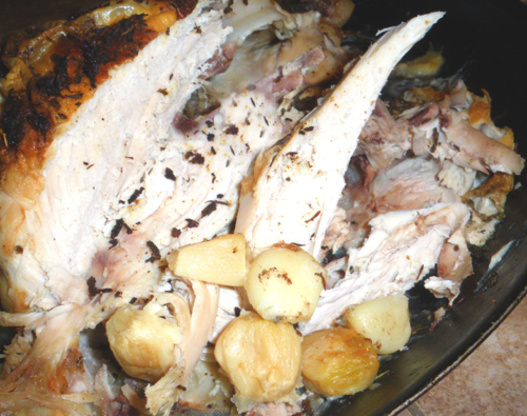 The whole cloves of garlic give it a sweet taste. Instead of rosemary, sage and thyme you can use 3 tsp "Italian Herb Seasoning by Spice Islands"

This is excellent! So easy to do and the garlic really wasn't that over-powering and the chicken was moist and tender. I boiled the left over carcass and made the most wonderful chicken rice soup. Made for Zaar Cookbook Tag.
Preheat oven to 350.
Rinse chicken in cold water, drain and pat dry.
Soften butter and mix in seasonings. Place chicken in a roasting pan and rub it with seasoned butter. Sprinkle with salt and pepper. Place the 20 garlic cloves in and around the chicken (put under the skin, same with some of the butter).
Add lemon juice to chicken cavity. Add 1/2 c water to pan.
Cover tightly with aluminum foil. Bake til chicken is tender (2 -3 hours).
Remove foil and bake 15 min to brown skin and then serve.