Genianoe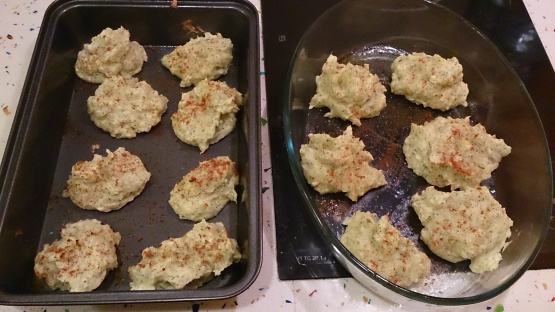 This recipe allows you to do something a little fancier than garlic mashed potatoes with not much more effort or time. Flour can be substituted for the potato starch, but I think the potato starch is much better in terms of flavor for this recipe. Serves 4, number of puffs will be dependent on how large you make each of them.

This is my new favourite way to serve mash potatoes!! The addition of the egg really puffs the mash up and gives it a crunchy outside. I sprinkled with cayenne pepper and chives. Yum, and well worth the extra few minutes in the oven rather than serving just plain mashed potatoes! Thanks FlemishMinx!!
Pre-heat oven to 400°F.
Add the minced garlic to the melted butter and allow to stand until needed.
Peel, dice, and boil potatoes till tender; mash with a potato masher.
Add all ingredients to the potatoes and mix well.
Place large tablespoons of the mixture in a buttered baking dish or on a cookie sheet.
Sprinkle each with paprika, if desired.
Bake in the oven for about 10 to 12 minutes, or until golden brown.