Pixie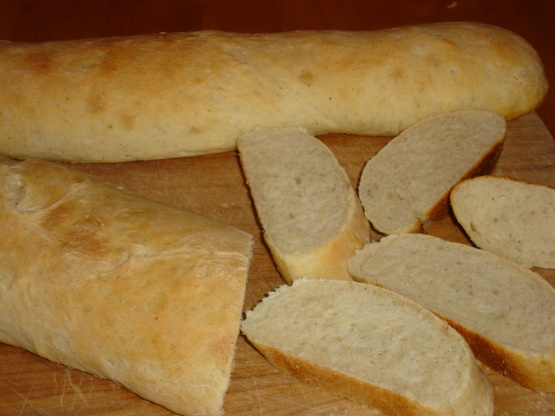 A little more zip than ordinary French bread. Cheap and easy to make. Very nice served warm. If you have good quality olive oil at hand, use that instead of the generic stuff. It does make a big difference in taste. Makes a 2 lb loaf.

Top Review by Pixie
Delicious bread, lovely soft center and a nice crust. Makes a great base for garlic cheese bread too. I followed the recipe exactly, except that I ran it on the dough setting and baked it as two long loaves (375F for just over 20 minutes). We really enjoyed this fresh out of the oven, thanks for posting it.
Pour water and oil into bread machine pan.
Add flour.
Add other ingredients, with the yeast being the final addition.
Set bread machine for "basic white bread, 2 lb loaf" or your model's equivalent.