Garlicky Edamame (Ww 2 Points)
Bergy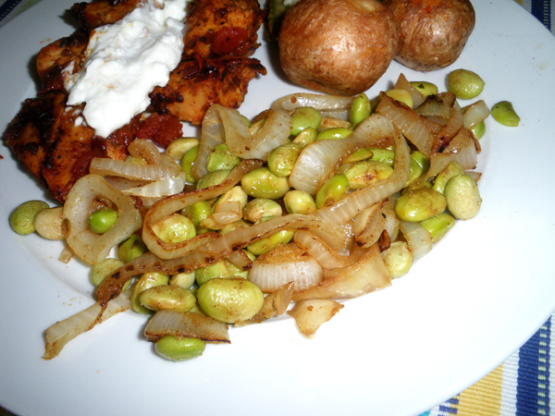 Edamame, the Japanese word for soybean, grow in clusters on bushy branches. To retain freshness, soybeans are usually parboiled and grozen. Edamame, a rich source of protein, have been enjoyed for over two thousand years in East Asia

These were so delicious and became the focal point of a point-friendly meatless meal. I used jarred garlic which is less aromatic and had to used about 50 percent more - as has been the case in other dishes made with this ingredient. This will be a fuss free staple for me.
1

teaspoon sesame oil (dark)

2

teaspoons garlic, minced

1

(10 ounce) bag edamame, frozen shelled
1⁄2 teaspoon salt

1

pinch cayenne
Heat the oil in a large nonstick skillet over medium-high heat. Add the garlic and cook stiring, until tragrant, about 30 seconds. Stir in the edamame, salt, cayenne; cook, stiring, until heated through, about 4 minutes.