Parsley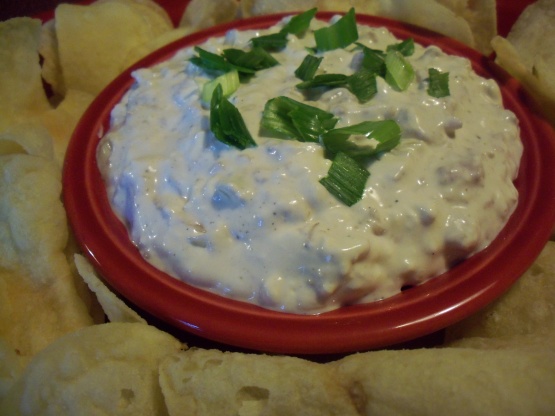 Good for parties of all sorts, but especially popular for sports gatherings!

if you love clams and garlic you will love this recipe. I plan to make large quanties for the upcoming superbowl party at the hitchin post in salem oregon.go ravens.
Place softened cream cheese in a bowl, then using garlic press, squeeze the garlic clove with juice into bowl.
Cream together the cheese and garlic with a spoon until smooth.
Add the remaining ingredients, stirring until smooth.
Transfer to serving container, cover, and chill for 1 hour before serving.
Serve with crackers, chips, or veggies.
If you'd like a thinner dip (if you're serving dip with thinner chips, for instance), you can add more clam broth. Also good topped with chopped green onions.