Garlicky Chicken or Pork Souvlaki
Bergy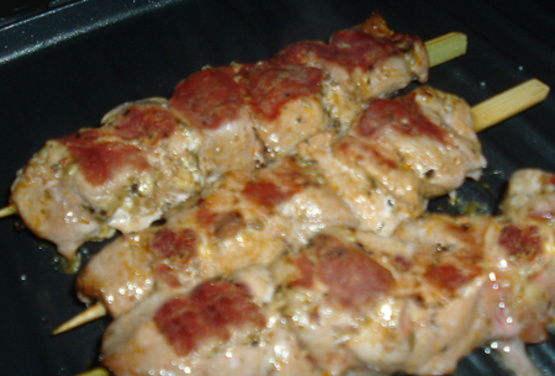 A very garlicky chicken souvlaki, the recipe comes from an old friend's greek mother (he had to translate it for me.) It disappears very fast - and no vampires allowed!
Top Review by Misa
The lovely tastes of both lemon and garlic were front and center on the chicken! I marinaded the chicken chunks for 4 hours and still had lots of flavor. Served with [recipe=#32448]spanakopita[/recipe]; I think next time I'll add in a side of buttered noodles, too!
Combine everything but chicken or pork, and whisk well. Place chicken in a seal able container, and marinate overnight to 24 hours.
Soak skewers 30 minutes in water (so they won't burn.).
Skewer meat.
BBQ or bake in oven until done (oven is 375 for 30-40 minutes.).