Garlicky Chicken or Pork Souvlaki
Bergy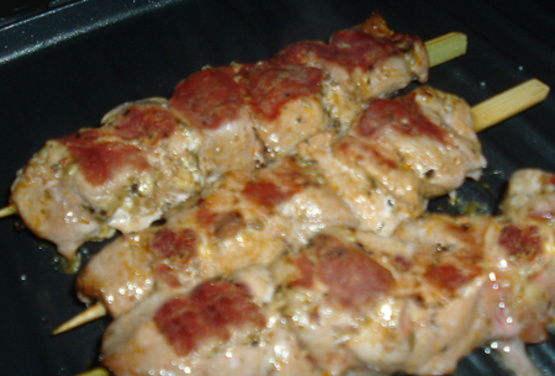 A very garlicky chicken souvlaki, the recipe comes from an old friend's greek mother (he had to translate it for me.) It disappears very fast - and no vampires allowed!

An easy and wonderful way to make souvlaki! As I don't have a grill, I had to oven bake my chicken - this was one of the few recipes that actually bothered to include an oven option! The chicken was moist and flavorful with only about an hour in the marinade - next time I'll be better prepared and leave it overnight. It'll only get better I'm sure! One trick I found was to skewer the chicken and then lay the skewers across the short side of a 9x13 pan. Keeping the skewers across the pan while baking is a great way to catch all the drippings and give it more of that rotisserie-style flavor! Served with Recipe #39658. I'll definitely be keeping this one on hand for the future!
Combine everything but chicken or pork, and whisk well. Place chicken in a seal able container, and marinate overnight to 24 hours.
Soak skewers 30 minutes in water (so they won't burn.).
Skewer meat.
BBQ or bake in oven until done (oven is 375 for 30-40 minutes.).