Garlicky Brussels Sprouts Saute
Jostlori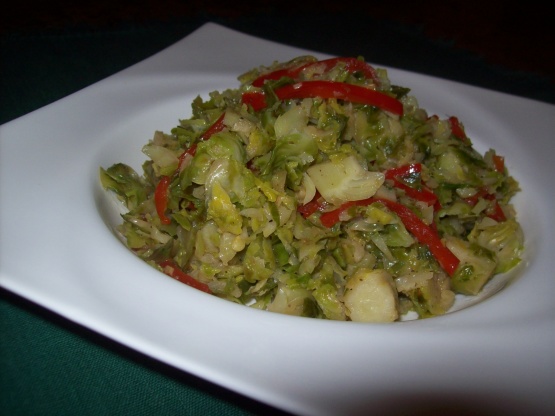 Are you a Brussel Sprout fan? You might be convinced after trying these. This fast dish has lots of flavor. Recipe from Vegetarian Times.

I loved the garlic in this, but didn't really enjoy the texture of the shredded brussel sprouts. Next time, I think I'd chop them up coarsely, or just quarter them. Otherwise, I loved the recipe.
Place brussel sprouts in bowl of food processor. Pulse 12-15 times, or until roughly shredded.
Heat oil in large nonstick skillet over medium low heat. Add garlic, and cook 5-7 minutes, or until light brown.
Increase heat to medium high and add shredded sprouts, red pepper, brown sugar, salt and pepper. Cook 5 minutes, or until lightly browned. Stir often.
Add water and cook 5 minutes or more until most of the liquid is evaporated. Stir in vinegar and season to taste with additional salt or pepper to taste. Serve immediately.
Note: Frozen sprouts can be used in a pinch in this recipe. Thaw first and reduce cooking time a bit. You want them to be crisp/ tender in this recipe.