Kiwiwife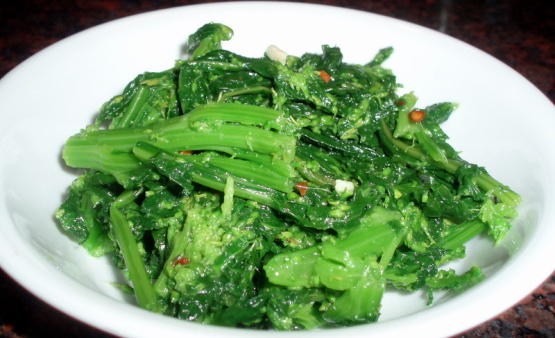 I love my veggies, so I do make this one often. Boiling the broccoli rabe helps remove some bitterness before it's sautéed in garlic-infused oil. If you like it hot, double the amount of crushed red pepper.

This was my first time cooking Broccoli Rabe and it turned out really well! I followed the recipe exactly and agree with TasteTester, that some might need a shorter boiling time. I will likely use a little less salt next time. Overall, a very flavorful recipe and the bitterness is truly reduced by boiling. Thanks!
Cook broccoli rabe in boiling water 6 minutes or until crisp-tender. Drain and plunge broccoli rabe into ice water; drain. Coarsely chop. (can be done ahead of time).
Spray large skillet with Pam. Heat oil in a over medium heat. Add garlic; cook 2 minutes, stirring constantly. Stir in broccoli rabe, salt, and peppers. Cook until heated thoroughly.