Garlic Wasabi Mashed Potatoes
PaulaG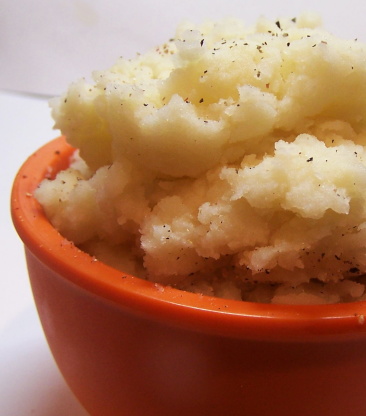 What a wonderful combination--garlic and wasabi! Be still my heart! This recipe is easy to cut down or double if need be! If you like more heat, add more wasabi powder! Enjoy!
Top Review by PaulaG
These potatoes are packed with flavor. Initially, I felt that the 1 tablespoon of garlic powder would be overpowering; however, is a must or with the wasabi the flavor would have been lost. I would probably use fresh garlic next time. This did require more than the 2 tablespoons of cream. These were served along with recipe #84890.
Boil potatoes in pot filled with enough water to cover potatoes and 1/2 teaspoon salt. Boil until fork tender, about 15-25 minutes.
Drain potatoes and mash to desired consistency.
Add butter, cream, garlic power, wasabi powder, pepper, and remaining salt. Mix well.
**If you like your potatoes a little creamier, you might want to add more cream or milk a little bit at a time until desired consistency is reached**.