awalde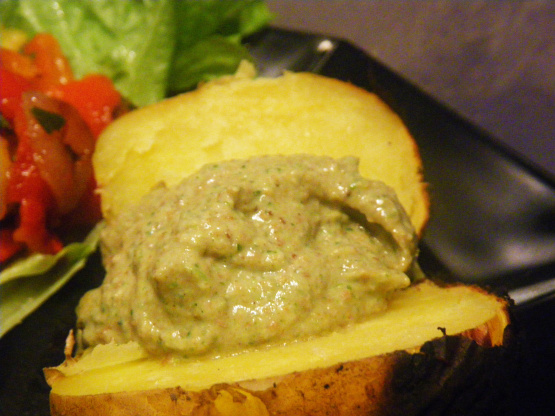 This unusual, very inexpensive, quick, and easy dip or sauce uses whole wheat toast crumbs and walnuts for body. The flavor comes from our favorite--garlic, lemon juice and olive oil. It can be used as a sauce for fish or spooned over slices of fresh mozzarella and tomatoes. Serve it in a small bowl surrounded by red pepper and zucchini strips. Top it with chopped toasted walnuts or parsley. Imagine you are in Greece!

mmMMmm, this is delicious. I didn't have a lemon so I used a lime and didn't have the greenery either. I think next time, I might use a few more walnuts but even with the substitution and lack of ingredient, this is really tasty. For those who already have crumbs made up, it's about 1/4 cup for each slice of bread. I used a cup so that's probably why I needed more walnuts, duh. Thanks for posting it. GladyRuth
Place the toast in a food processor and process into fine crumbs, with the motor running, add the walnuts and garlic and process until they are ground fine.
Add the remaining ingredients with the motor running and process until smooth, adding more water if the mixture seems too thick.
Scrape the mixture into a bowl, and season to taste with salt and pepper. Serve immediately ot it will turn dark in color.