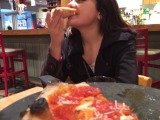 Long ago, before I could just throw a vinaigrette together, I started with this recipe. It's called The Best Vinaigrette Dressing in the Celebrations on The Bayou cookbook, put out by the Junior League of Monroe, Louisiana. The recipe calls for white wine vinegar but you can use either red or white wine or champagne vinegars. And, it's delicious with Feta crumbled over your green salad. 7/2013: Added a tweak of a little agave or honey to soften the taste.
Directions
Place all ingredients in a food processor or blender.
Blend until creamy and garlic is shredded, about 60 seconds.
Keeps well in the refrigerator.