In Mexico, or Spain for that matter, garlic tea is served up for coughs or colds. People swear by it! The garlic oils inhibit cough and cold microbes, and they are effective decongestants. Lemon juice reduces and thins mucus, which makes it easier to unclog a stuffed up respiratory system. Lemon juice also changes the body's pH, making it less hospitable to viruses and bacteria. Adapted from Prevention magazine.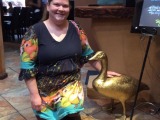 I have been trying to figure out for months how to get more garlic into my diet. Then this morning it just hit me- garlic tea! Of course, I googled it and found this recipe. I made it immediately and was shocked at how quick, easy and tasty this is! I followed the recipe except that I used lime instead of lemon (only because that's what I had available). I plan to keep this handy throughout the winter!
In a saucepan, bring 3 cups of water and the 3 cloves of garlic to a boil. Turn off the heat when the water boils, and add 1/2 cup of the honey and 1/2 cup of the fresh lemon juice. Strain.
Sip 1/2 cup, warm, three times a day.
Refrigerate extra to use the next day.