Garlic Sun-Dried Tomato Pasta
Kitty Z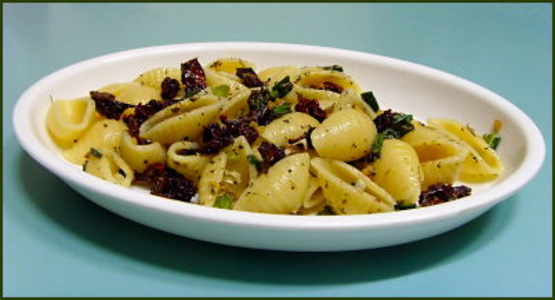 I love garlic so when I wanted a change from tomato sauce on my pasta, I threw a few ingredients in my frying pan and came up with this. Cut down on the garlic if it's too much for you. Add hot pepper flakes if you like spice. Cook vegetable of your choice with pasta if you want. Every time I make this, it's different. Hope you enjoy it as much as we do.

I used this recipe as a foundation and added a few ingredients to it and it was marvelous. I put red onion- 1 whole, 2 tablespoons capers, zest of 1 lemon, 1/4 cup chopped black olives and 1/4 cup chardonnay. I finished with parmigiano reggiano and wished I had reserved a little pasta water to thin it out a bit. Also, I used spaghetti but think it would have been better with penne or the recommended shells.
In small frying pan, saute all ingredients (on low) except pasta.
Do not let the garlic brown.
If it does, remove from heat immediately and let sit off of burner.
The longer it sits, the stronger the flavour in the oil.
Boil the pasta according to directions.
For a variation, you can add frozen peas to pasta water, or you can add broccoli flowerets to the last couple of minutes of boiling.
Strain pasta and toss with oil mixture.
Top with parmasan cheese and enjoy!