Greffete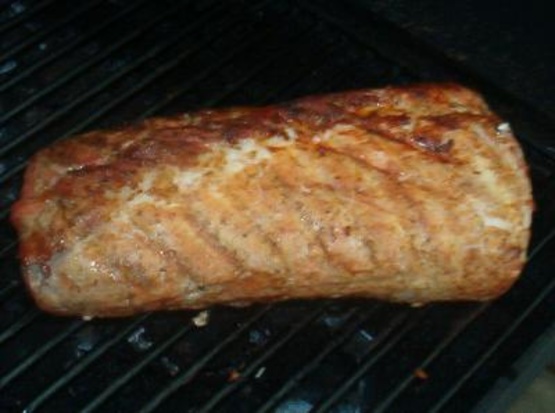 This is a real winner for pork loin. It always comes out moist and flavourful. Leftovers are great thin sliced for sandwiches and salads. Goes great with potatoe salad. Tastes great hot or cold! If you really like spicy try adding a slice of jalepeno pepper in eack hole with the garlic.

Top Review by Laudee
OMG, is this good chewin'! We no longer have a barbie, so I made creole seasoning with Mizz Annie's recipe #22089, rolled that hummer around and around in the rub, stuck it in a cooking bag, and put it to roast in the oven, about 325° for approximately 3 hours. Talk about moist and tender! I didn't use beer or chicken stock ... The juices from the meat oozed out, and I got a pretty tasty gravy from them! Oh, I did add a 1/2 tspn. of cayenne to the seasoning mix. Gave the pork a nice little bite! Wonderful recipe, Speedy! I do believe she's a keeper! Laudee
1700.97

g center cut pork loin

3-4

clove garlic, peeled and sliced

9.85

ml creole seasoning (I use Tony Chachere's Original)

340.19

g can beer or 340.19 g can chicken stock (just for basting anyway.) (optional)
Fire up the grill!
We have gas so I heat it up on High for about 10 min.
Then turn to low.
If useing Charcoal sear then cook over indirect heat.
I use a paring knife to cut slits into the meat on the fatty side.
Approximately 18 holes (kinda like golf huh).
Insert at least 1 slice of garlic per hole, I try to get it into the middle of the loin.
Rub loin on all sides with Creole Seasoning.
Grill approx 15 minutes, roll it over and baste with beer.
Continue grilling, approx every 15 minutes roll 1/4 turn and baste with beer.
Usually takes about 45- 60 minutes (depends on grilling heat) Check with meat thermometer,@160 degrees F remove from heat, cover and let rest for 10-15 minutes.