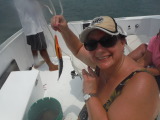 AKA - Beetles Pure "Dragon Breath!!" But worth it!
1 can jumbo black olives (or colossal)
garlic, cloves (enough to fill olives)
olive oil (enough to cover)
14.79 ml italian seasoning
Directions
Drain olives.
Peel garlic, stuff into olives.
Large cloves may be cut to fit.
Put stuffed olives into a jar (we use a pickle or mason jars).
Add enough olive oil to cover.
Add seasonings and chili.
Seal, shake to mix.
Let marinate for a few hours (or a day).
Most Helpful
These made such a pretty jar...very nice after sitting several (and I mean several) days!! Dragon breath for sure! I used these in so many things! Thanks for sharing!

Whew! Those little babies are strong! Good, but I tried it after l day of sitting, and I think I will let it mellow for a few days, at least! Thank you Kelly!

These are very easy to make, best when left to marinate for a few days. Have other purposes. 1. They keep the mosquitos away. Yes they do! You would be shocked at how many people love these. I have people asking all the time for the recipe. They are also a very good garnish for Bloody Mary's!