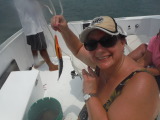 AKA - Beetles Pure "Dragon Breath!!" But worth it!
Make and share this Garlic Stuffed Olives recipe from Food.com.
Ingredients
Nutrition
1

can jumbo black olives (or colossal)
garlic, cloves (enough to fill olives)
olive oil (enough to cover)

1

tablespoon italian seasoning
Directions
Drain olives.
Peel garlic, stuff into olives.
Large cloves may be cut to fit.
Put stuffed olives into a jar (we use a pickle or mason jars).
Add enough olive oil to cover.
Add seasonings and chili.
Seal, shake to mix.
Let marinate for a few hours (or a day).