Garlic Stuffed Green Olives
jhauzer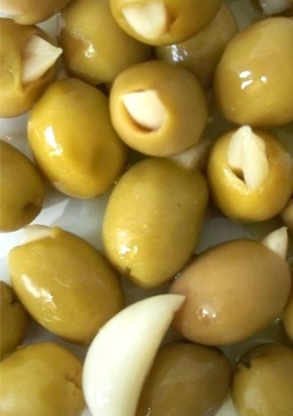 I searched the internet for a good recipe for this, couldn't, so developed my own.
30

queen anne sized green olives, separate the Olives from the brine keep both

2

heads garlic (although amounts will very depending on the jar of olives)
italian mix herbs
red chili pepper flakes
Peel Garlic, cut the rough ends.
Place in oven safe container.
Cover with olive oil.
Shake Italian mix: Oregano, Basil, Parsley, and Red Chile Flakes to taste.
Place in oven at 375 400 for 5 to 10 minutes, allow oil to boil for 2 minutes.
Allow the garlic to cool while taking the pimento out of the olives (use a tooth pick).
Stuff cloves into the olives and place the olives back into the brine (the olive container with the juice).
** The oil that the garlic is cooked in can be used as a dipping sauce for toast when finished**.