Garlic Steak With Mushrooms
Anonymous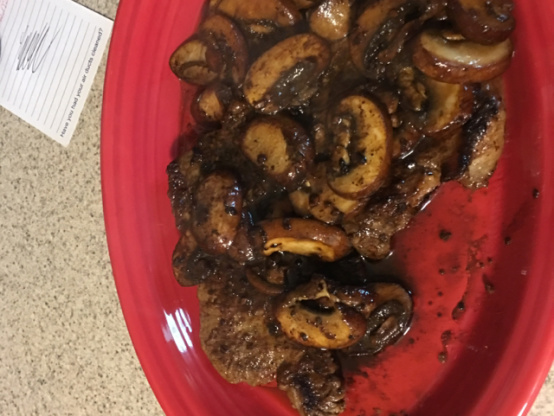 This is very garlicky but so yummy! I got this recipe from my local Publix grocery store.

Excellent steak! I used rib steak but followed the recipe otherwise. Thanks for posting! made for Culinary Quest 2014
Using a garlic press, crush cloves into medium bowl. Stir in olive oil, steak seasoning and salt. Cut steak into four servings and add to garlic mixture. Press mixture into steaks and turn to coat completely. Let stand 10 minutes.
Preheat large sauté pan on medium-high 2-3 minutes. Place steaks and garlic mixture in pan. Cook uncovered 5 minutes. Reduce heat to medium, turn steak and cook 6-8 more minutes until internal temperature is 140°F.
Note: The cook time is for medium-rare steak, recommended for flavor and food safety. Add 4-6 minutes for a more well done steak.
Add butter to pan and turn steaks to coat. Remove steaks and keep warm. Add (rinsed) mushrooms to same pan. Cover and cook 5-7 minutes until tender. Serve with steaks.