-Sylvie-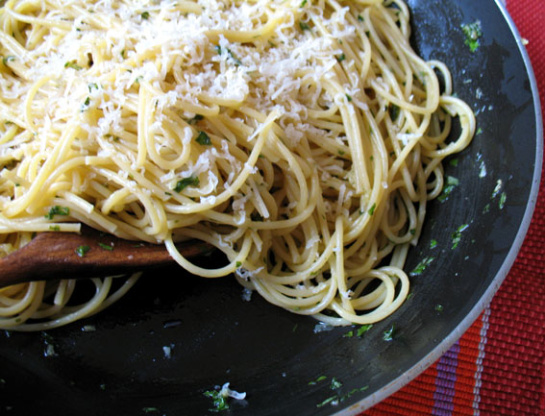 I adopted this recipe from Zaar some time ago and finally got round to trying it myself. It's quick and simple and full of fresh flavours. I prefer using basil but the original recipe stated parsley so I left it here for you to choose. Try adding some sliced black olives, fried or marinated mushrooms or sun blush tomatoes at the end.

I cooked the garlic very slowly and it got very mellow and yummy. My favorite way to have pasta. Not a very good thing to cook for a date tho, lol. I added mushrooms the last time I made it, with great results.
To make spaghetti sauce, cook garlic in butter and olive oil over medium low heat just until the garlic is soft but not browned.
Stir in the parsley or basil and cook for 2 minutes (stirring constantly) until the herbs are limp but still green.
Pour sauce hot over cooked spaghetti, toss lightly to coat and top with parmesan cheese.
Serve with french bread and extra Parmasan cheese at the table.
This garlic sauce will cover 3/4-1 pound of spaghetti or other pasta.