Bergy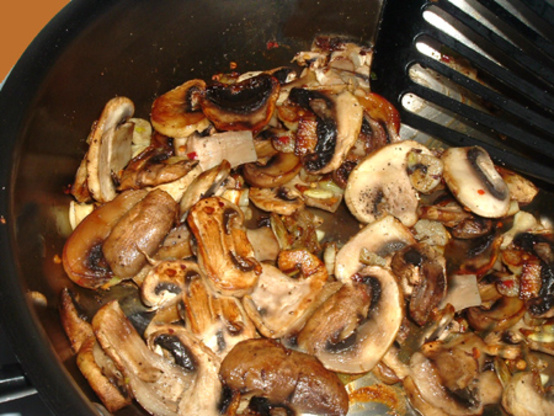 Recipe by Derf
Wonderful on any kind of steak!!! from Cooking Light

Top Review by Mirj
I made this as part of Worldwide Recipezaar Day. The first thought through my head as I tasted these was "Boy, can I pick 'em or what?" This is a fantastic side dish to serve along with steak and fries, or meatloaf and mashed potatoes, or with anything! If you served them on their own I would be happy! My only change -- a healthy dash of paprika.
Heat the olive oil in a large nonstick frypan coated with cooking spray over medium high heat.
Add mushrooms, crushed red pepper, garlic, and a dash of salt, saute 3 minutes.
Reduce heat to medium.
Add the broth and a dash of black pepper, and cook for 5 minutes, stirring occasionally.
Remove from heat and sprinkle with parsley.