Garlic Shrimp (WW-4 points)
teresas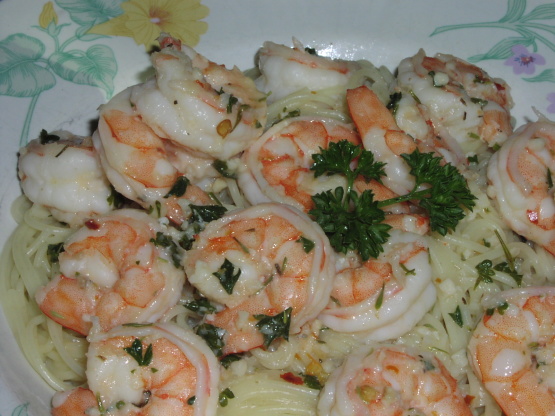 This is a very quick and easy WW recipe. It goes very well with simple steamed rice or rice pilaf and asparagus. Very light.

We enjoyed this although I think it was missing something. I don't really know what maybe some acidity, like lime or lemon juice. Maybe replacing the thyme with dill. (possible personal preference :) ). This was very quick to prepare and very filling. I served it over angel hair pasta but I did double the sauce items in step 5 with the exception of the thyme which I kept the same. Thanks for posting. :)
Heat oil in a large nonstick skillet over medium high heat.
Add pepper, garlic and bay leaf; saute 30 seconds.
Add shrimp and salt; saute 3 minutes.
Remove shrimp from skillet; set aside.
Add wine, parsley, and thyme to skillet; bring to a boil, and cook until reduced to 1/4 cup, about 1 minute.
Return shrimp to skillet; toss to coat.
Discard bay leaf.