Garlic Shrimp With Basil & Tomatoes
TigerJo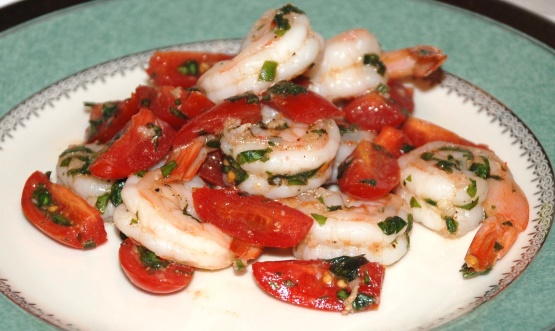 I adapted this from Food Network last summer. We like more garlic, tomatoes & basil than the original; and we quickly saute the shrimp & garlic in a pan. It's very good over pasta or even rice, but we usually serve it with crostini. Topping the bread (or crostini) with some of the tomato/basil mixture makes it even better. It's quick, has lots of flavor, even with supermarket tomatoes & basil in the middle of winter. I also found 2 servings to be more realistic than the recommended 4; shrimp are pretty low calorie, and even with the crostini, it's a pretty low kcal meal.

my bil sent me this recipe, but yours called for more tomatoes, so I tried yours. We like it very well. I'd add onions to it next time tho, and I'd still add more basil. Great taste, easy, and good. thanks. I served it hot, but I do think it would be better at room temperature.
If using larger than cherry or grape tomatoes, cut them in segments about the same size as your shrimp. In a medium bowl, combine tomatoes & basil. Season with salt & pepper; set aside.
Rinse, drain & pat shrimp dry; season with salt & pepper. Heat a large saute pan or skillet over medium heat; when hot, add shrimp and saute for about 1 minute. Add garlic, and continue to saute shrimp until pink and cooked through.
Add shrimp and garlic to bowl of tomatoes & basil, and toss well. May be served hot (or at room temperature, per the original recipe).