Garlic Shrimp and Peas With Linguine
Jenn P.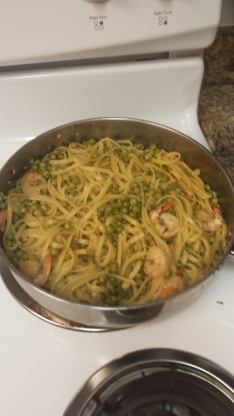 Toss lemony shrimp in a flavorful garlic and butter sauce and serve with linguine and peas.

My roommate and I enjoyed this recipe a lot! Although, I must admit, as simple as this is I am VERY new to cooking and although I followed it exactly and used two cloves of garlic I didn't end up with much of a garlic taste...I would call mine more of a lemon shrimp and peas with linguine :) But still, sooooo goooood! Next time I think i will add some more garlic and possibly some parmesan cheese...mmm... :)
Cook pasta according to package directions, adding peas during last 5 minutes of cooking time. Drain.
Meanwhile, in large nonstick skillet, melt 1 T. butter over medium-high heat. Add shrimp, garlic and salt; cook, stirring, until shrimp are pink and opaque, 5-6 minutes, adding wine during last 1 minute of cooking time.
Stir in lemon juice, zest and remaining 3 T. butter until butter just melts. Add pasta and pea mixture; cook, stirring, until heated through, 1 minute. Remove from heat; stir in parsley. Serve immediately.