Garlic Shrimp and Peas With Linguine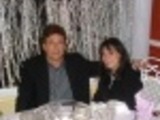 Toss lemony shrimp in a flavorful garlic and butter sauce and serve with linguine and peas.
Directions
Cook pasta according to package directions, adding peas during last 5 minutes of cooking time. Drain.
Meanwhile, in large nonstick skillet, melt 1 T. butter over medium-high heat. Add shrimp, garlic and salt; cook, stirring, until shrimp are pink and opaque, 5-6 minutes, adding wine during last 1 minute of cooking time.
Stir in lemon juice, zest and remaining 3 T. butter until butter just melts. Add pasta and pea mixture; cook, stirring, until heated through, 1 minute. Remove from heat; stir in parsley. Serve immediately.
Reviews
Most Helpful
My roommate and I enjoyed this recipe a lot! Although, I must admit, as simple as this is I am VERY new to cooking and although I followed it exactly and used two cloves of garlic I didn't end up with much of a garlic taste...I would call mine more of a lemon shrimp and peas with linguine :) But still, sooooo goooood! Next time I think i will add some more garlic and possibly some parmesan cheese...mmm... :)
This was so good!!! I didn't have a lemon so used bottle lemon juice and used dried parsley flakes. It was really good, so much so, my Mom and Dad wanted the recipe.
This was wonderful! Made as written for us and company and it was a great hit. It was fancy enough and something so simple to put together. Served with garlic bread and a green salad. Thank you for posting. Made for 2013 Zaar Chef Alphabet Soup tag game.