Garlic Shrimp and Pasta (Low fat recipe)
Catnip46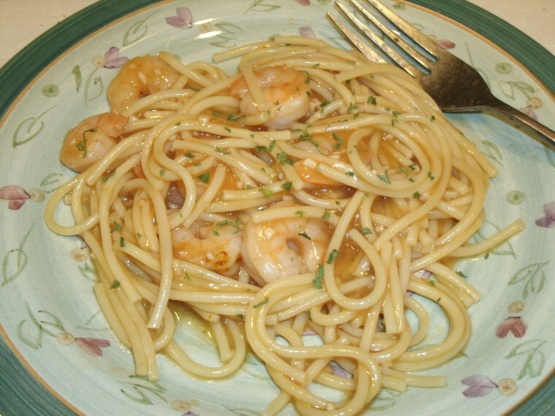 I got this recipe a few years ago off of another site and I just love it. I make by own chicken both from a chicken bouillon cube which I add the lemon juice (I only add about 1 tsp.) and cornstarch to and set aside. I brown my garlic in a little olive oil then throw in the shrimp. When this is heated up I add the chicken stock. Cook until thicken then I add only a small dash of red pepper powder, a dash of Kitchen Bouquet Browning Sauce and so so soy sauce. Add salt & pepper to taste. And finally I stir in the broken up cooked spaghetti. Heat and eat.
In a medium saucepan, mix cornstarch, broth, garlic, parsley, lemon juice and pepper.
Over medium-high heat, cook until mixture boils and thickens.
Stir constantly.
Add shrimp.
Cook for 5 minutes or until shrimp turns pink.
Stir often.
Toss with spaghetti.