Garlic, Seasoned Salt, Sesame. Poppy, or Cheese Breadsticks
Rita1652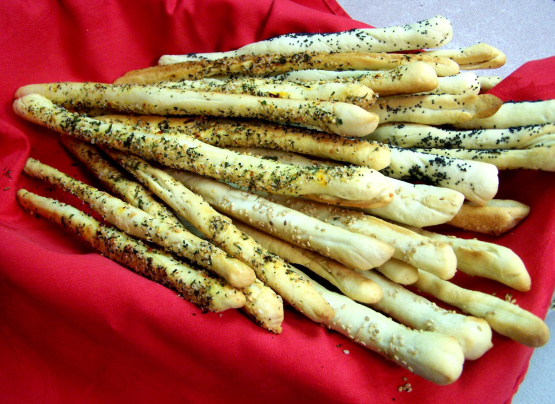 Garlic, seasoned salt, sesame, poppy, cheese, or top with anything you want. (bread machine dough cycle)

These were a hit at my Italian-themed Christmas dinner. I used asiago cheese instead of the parmesan since its what I had on hand. I made it by hand since I don't have a bread machine. The dough was very stiff and it was a workout to knead. I rolled the dough out with a rolling pin, and then cut into strips with a pizza cutter and then rolled those into snakes just long enough to fit the width of my sheet pan lined with parchment. I topped with olive oil, roasted garlic, poppy seeds, sesame seeds, salt, pepper, red pepper flake, and more asiago. They were wonderful. They were even better the next day when they dried out a bit more and were actually a bit on the stale side.
Add water and oil to bread pan.
Top with flours, cheese, sugar and salt.
Make a well in center and add yeast.
Lock pan into machine.
Program machine for Dough Cycle.
When dough is done, let sit for 15 minutes.
Knead well and roll out into 9x8 rectangle on a floured surface.
Cut into three 8 inch strips.
Cut each strip into 10 strips.
Roll and stretch each piece into 12 inch sticks.
Lightly roll each in olive oil then into optional toppings.
Place on cookie sheet pans and cover with plastic wrap for 15 minutes.
Preheat oven to 400 degrees.
Bake for 12-15 minutes or until light golden brown for soft texture or bake 5 more minutes for a crisp texture.