Garlic Sauteed Artichokes
Monica P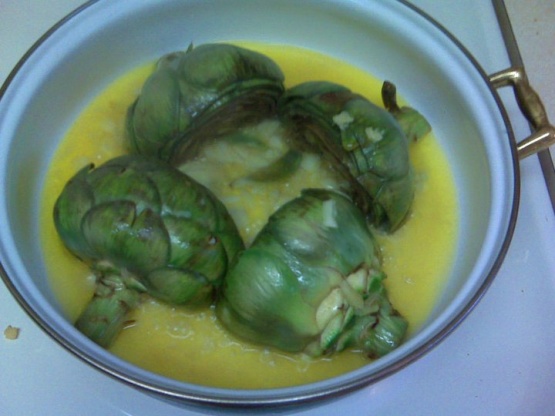 Artichokes are sauteed in garlic butter before steaming. A simple and delicious way to use artichokes!

Top Review by Geema
I just made these artichokes the other day, finding the recipe on Allrecipes. This is the only way I'm going to be making artichokes now..so easy and they cook in half the time. I have a little problem with the garlic browning too much and turning bitter when I brown the artichokes. I think I'm going to wait and add the garlic, pressed, when I add the liquid for braising. Great, great, recipe.
Rinse artichokes under cold water, and use a sharp knife to cut the top 1/3 off of each one.
Trim the stems to about 1 inch, and remove the smaller leaves from around the base.
Use scissors to remove any remaining leaf tips.
Cut each artichoke in half from the bottom to the top, then use a spoon to scrape out the hairy choke.
Rinse again to remove any residual hairs.
Melt the butter in a large skillet over medium heat.
Add the garlic, and saute for about 1 minute to flavor the butter.
Arrange artichoke halves cut-side down in the skillet.
Saute for about 5 or 10 minutes, or until lightly browned.
Reduce heat to low, and pour in water& chicken broth, cover, and let steam for 15 to 20 minutes, or until the artichokes are tender.
A fork should easily pierce the stem.