Garlic Roasted Butternut Squash
Debbwl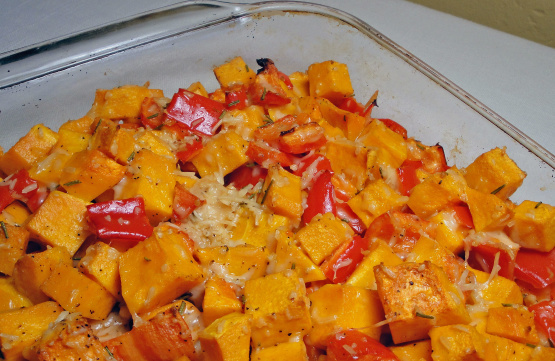 This is always a hit with the family at holiday time.

This was exactly what I was looking for! I didn't want to do the usual "sweet" roasted squash, and I'm so glad you have this here! I added an extra garlic clove since we love it, and I only had 1/2 a red and 1/2 a green pepper to add. I also threw in half a chopped onion, since the leftovers are being made into a quick squash soup, and that's all that was missing from the other recipe! Thank you for providing TWO different meals with your recipe! Next time I might roast even longer, since I like the crispy bits.
Peel and discard seeds of the squash.
Clean out peppers
Cube vegetables in small dice and place in large bowl.
Peel and mince garlic and add to squash.
Add the oil, rosemary, cheese, salt and pepper.
Mix all together well and place in a greased baking dish.
Bake uncovered at 350°F for 1 hour.