Garlic-Roasted Broccoli Drizzled With Balsamic Vinegar
Boomette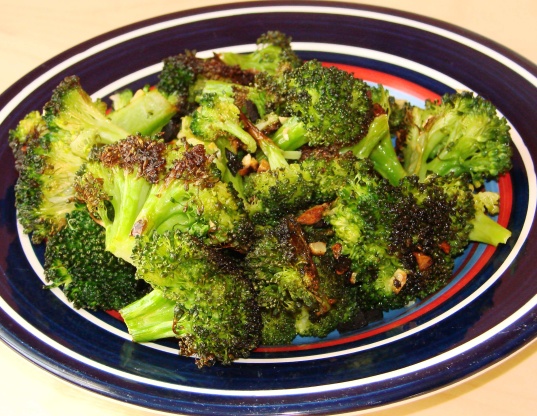 Roasting veggies is such an easy side dish! Plus the flavor is very unique. You could actually use this method with really any veggie you like to roast, such as bell peppers, asparagus, etc. Enjoy!

Yum Yum! I couldn't stop eating this! What a nice change from steamed broccoli. We eat broccoli all the time and I wanted a new way to prepare it-this is it! The garlic flavor is fabulous! I followed this recipe exactly, which I never do ! I did cook it longer, about 15 minutes. I took another reviewers suggestion and tossed the olive oil and spices in a plastic bag with the broccoli to coat -worked great! Just say "yes" to roasted broccoli! I have a similar recipe for asparagus, with the addition of shallots and it's great too! Thank you for this recipe-keeper!
In a small bowl, combine oil and garlic.
Spread broccoli florets onto baking sheet.
Pour garlic oil, salt and pepper over broccoli and toss to coat.
Roast in oven at 475 degrees for 6-9 minutes, turning once. Broccoli should be tender and slightly charred on the edges.
Drizzle with balsamic vinegar before serving!