Rita1652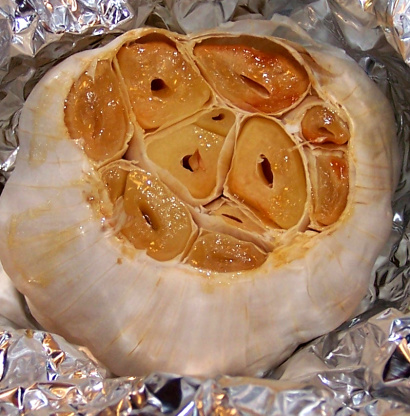 Due to the high sodium content in most commercial salad dressings, I make my own. Since I prefer the flavor of roasted garlic over raw, I roast a bulb every Saturday and make salad dressings on Sundays. This recipe is from Moosewood Restaurant Low-Fat Favorites.

A simple, super easy and totally healthy way to roast garlic so that it is on hand whenever you need it which, if you love garlic as much as I do, is every day – and almost every meal! I made this for Pick a Chef 2006. Thanks Netgirl!
Preheat oven to 375.
Peel most of the papery skin from bulb.
Cut tip off, exposing tops of cloves.
Place in small baking dish or on square of foil.
Add 1 T water.
Cover dish or close foil square.
Bake for 45-60 minutes, until very soft to the touch.
Let cool.
Separate cloves and store in refrigerator.
Peel cloves as needed.
Sealed and refrigerated, it will keep for at least a week.