Garlic Roast Chicken With Rosemary and Lemon
loof751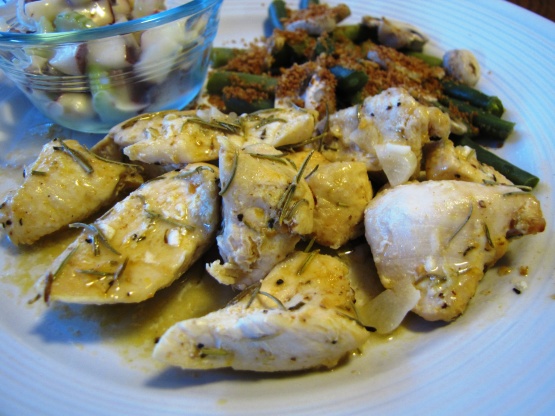 This is a Rachael Ray recipe. It is quick enough for a weeknight dinner and great for a Sunday dinner with family. I usually serve this with mashed potatoes.

Elegant recipe. Quick for a weekday or company dinner. Thanks for posting.
Preheat oven to 450 degrees.
Cut chicken into large chunks, arrange chicken in a baking dish. Zest and juice the lemon. Add lemon zest, garlic, rosemary, olive oil, and grill seasoning to chicken, and stir to coat.
Roast 20 minutes.
Add wine and lemon juice to the dish and combine with pan juices, then spoon over cicken.
Return to oven and turn oven off, let stand 5 minutes in oven.
Spoon juices over chicken and serve.