Garlic Roast Chicken (Barefoot Contessa)
flower7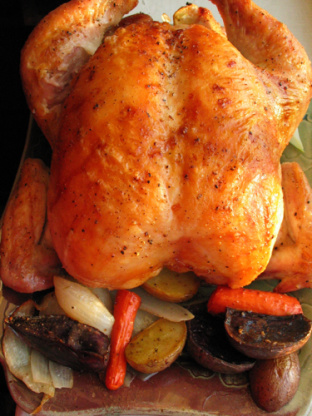 After seeing this on Food Network and trying it that very night, I'll never make a roasted chicken any other way. The vegetables alone are worth it, but the chicken is so unbelievably tender and juicy that you can't help but go back for seconds. I've made only very subtle changes to suit my taste, and I would recommend nearly doubling the veggies if feeding four grown people. Reheated leftovers are phenomenal (use medium power on microwave).

Delicious! I had a 4# bird and used Kittencal's method for "blasting" (20 minutes at 450, 40 minutes at 400), with wonderful results. I appreciated that I didn't have to put pats of butter under the skin and could just brush it on top. We LOVED the garlicyness of this and I will definitely use again. Thanks!
As soon as you get the chicken home, salt it inside and out, wrap it and keep it in the refrigerator for up to 2 days.
When you are ready to cook the chicken, preheat the oven to 425 degrees F. Pat the outside of the chicken dry with paper towels. Liberally salt and pepper the inside of the chicken and stuff the cavity with the all the garlic and lemon.
Tie the legs together with kitchen string and tuck the wing tips under the body of the chicken. Place it in a roasting pan just large enough to hold it and the vegetables.
Scatter the onion slices, carrots and potatoes around the chicken. Brush the outside of the chicken with the butter, pour all remaining butter over vegetables and sprinkle everything with salt and pepper.
Roast the chicken for 1 1/2 hours, or until the juices run clear when you cut between a leg and thigh. Baste chicken and vegetables with juices a couple times during cooking. (Our 5 1/2 lb chicken needed 1 hr 20 mins.).
Remove the chicken, place on cutting board, and cover with aluminum foil. Place the vegetables back in the oven and continue cooking for an additional 15 minutes.
When the vegetables are cooked, carve the chicken and place the slices on a platter surrounded by the vegetables. Drizzle some pan juices over the chicken and vegetables.