Garlic Roast Beef Sandwiches
DeniseBC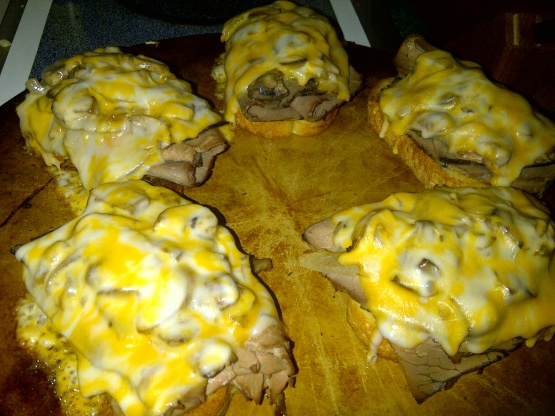 This is from a Taste of Home recipe magazine. Originally submitted by Bridget Evans of Forreston, IL. This is a super simple and tasty recipe for a busy weeknight. The recipe calls for a loaf of garlic bread but I used the presliced texas toast type frozen garlic bread and it worked out perfectly. I also used chipotle cheddar sliced cheese which was tasty too. Loved this recipe so much I had to post it.
I knew last night we'd be rushed for dinner and I'm also on a kick to use things up in my freezer, so this recipe fit the bill! I was not disappointed! They made a quick and tasty weeknight supper. Like Shelby Jo I used frozen garlic toast, and that worked great. Our small town deli was closed when I went to the store, so I used Hillshire Farms packaged roast beef and only made 4 sandwiches, so I played with the amounts some. I used 8 oz of the roast beef for 4 sandwiches, but a full 1/2 lb of mushrooms and the 2/3 cup onion since I am a nut about mushrooms and onions! I also used Colby Jack slices since they didn't have plain Colby sliced. Easy and straightforward to make on a harried night. Served with tater tots and green beans. Will be making again for sure! Thanks for sharing Shelby Jo!!!
Bake garlic gread according to package directions.
Meanwhile; in a large skillet, saute the mushrooms, onion, and garlic in butter until vegetables are tender.
Stir in Worcestershire sauce.
Layer each half of garlic bread with roast beef, mushroom mixture and cheese.
Return to oven.
Bake 1 or 2 minutes longer or until cheese is melted.
Slice and serve immediately.