Garlic Ricotta Stuffed Mushrooms
Pamela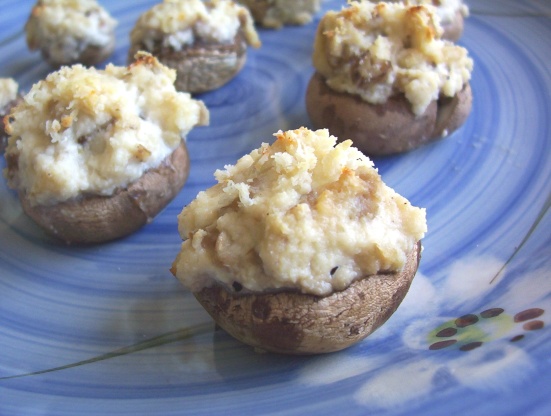 I had some beautiful large mushrooms and wanted to make them with a cheesy filling.

Yummy!!! These were so good. I ade a double batch for my weekly pasta night dinner party as an appetizer. Everyone ate them up. I did add about 1/4 cup of onions to the mushrooms while cooking and I really think that they helped to punch up the flavor. I also added a tsp. of red pepper flakes as suggested by some other reviewers but I think that I will skip on these next time. Mine had enough flavor without them and it made the mushrooms a little too spicy for my liking. I have some leftover filling and am trying to think of a creative way to use it up. Maybe as a veggie dip for lunch one day? Anyways, thanks for a recipe I will be sure to use again and again!
Preheat oven to 350°F.
Clean mushrooms, remove stems.
Chop stems, and the one extra mushroom.
Heat olive oil in sauté pan.
Add chopped stems and the one extra mushroom.
Halfway through cooking add crushed garlic, salt and pepper.
Remove from heat and allow to cool slightly in a small mixing bowl.
Add ricotta and 2 tablespoons grated Parmesan.
Fill caps with the cheese mixture and place on a cookie sheet that has been sprayed with cooking spray.
Sprinkle remaining Parmesan on top.
Bake for approx 20-25 minutes.