GaylaJ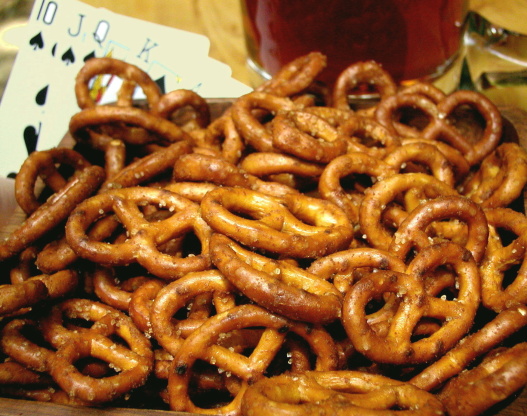 A savory snack perfect with icy-cold beer.

I kind of agree with what Ellee said in an earlier review. I try to sub margarine for butter if I can, but I was afraid margarine would have too much water content and possibly not enough richness for this, so I did use butter. I only had part of a 15oz bag of pretzels, so I adjusted the ingredient amounts. These were really simple and baked up really well. For easier clean-up, I lined the cookie sheets with aluminum foil. I had a bowl of these right away, they were very good. My roomie tried one, and she said they were good also. Bf hasn't yet tried them. Thank you for posting, Molly. :)
Preheat oven to 250 degrees F.
Mix worcestershire sauce, butter and garlic powder.
Pour over pretzels and mix well.
Spread on a baking sheet in a single layer.
Bake for one hour, stirring every 15 minutes.