Garlic Prawns With Risoni, Tomato & Artichoke
Satyne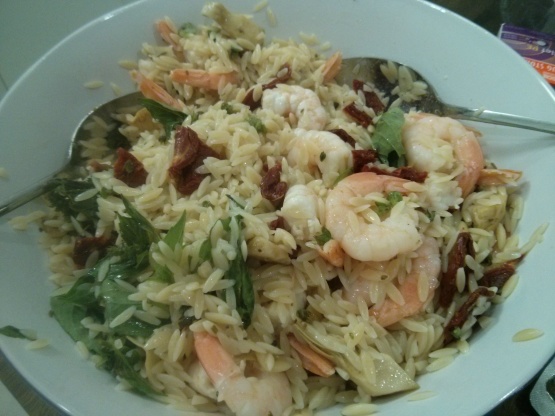 Taken from Good Taste December 2006

We enjoyed all the fresh, Mediterranean flavors in this dish. Next time I'll cut the artichoke hearts into smaller pieces so you can have a bit of artichoke with every bite. Made for Photo Tag.
Combine the stock powder and water in a saucepan. Bring to the boil over high heat. Add risoni and cook following packet directions for 10 minutes or until al dente. Drain and return to the pan.
Meanwhile, heat the oil in a large frying pan over medium heat. Add the garlic and cook, stirring, for 1 minute or until aromatic. Add the prawns and cook for 2-3 minutes each side or until the prawns curl and change colour. Season with salt and pepper.
Add the prawns, artichoke, tomato, lemon rind, lemon juice and basil to the risoni and gently toss until just combined.
Divide among serving bowls and serve immediately.