Garlic Prawn Appetizer on Baguette Toasts
Derf2440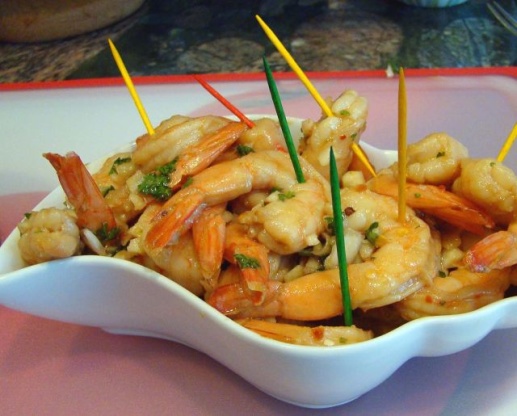 From a Junior League cookbook. This recipe calls for cooked shrimp or shrimp that are cooked, frozen and thawed. You simply marinate them and serve on small individual toasts.

Loved the flavour of these, and the pleasant little bit of heat, I made them for a dinner party appetizer, everyone loved them, a huge success! I had no tarragon vinegar so I subbed with 2 tablespoons of balsamic vinegar. Rather than serve them on toasts I served them in a dish with the sauce and with tooth picks, worked very well. Thanks for posting, I will make them again, next time I will try them on the toasts..
Whisk all ingredients except for the shrimp and bread.
Place shrimp in a shallow baking dish and pour the marinade over them.
Cover and refrigerate for 6-10 hours.
Drain marinade when ready to serve and place the shrimp on the pieces of toast to serve.