This is a yummy recipe I created for my cooking class. Sooooo good!!
Directions
Preheat oven to 375º.
Pierce potatoes all over with a fork.
Bake on rack in oven until tender, about 55 minutes. Set aside to cool.
Meanwhile, put the garlic and olive oil in a small saucepan and place over medium heat.
Cook until garlic sizzles, about 2 minutes.
Reduce the heat and cook until the garlic is tender, about 10 minutes. Set aside to cool.
Raise the oven to 500º.
Halve the potatoes lengthwise and gently scoop out the flesh, leaving about 1/4 inch of the flesh attached. Reserve the insides for another recipe.
Cut the potato halves in half lengthwise and transfer them to a baking sheet.
Brush with garlic oil on all sides.
Arrange skin-side up and bake for 7 minutes.
Turn over, top with shredded cheese, if desired, and bake 8 more minutes.
Immediately season with kosher salt.
Top with desired toppings.
Most Helpful
Loved them. Only did the whole potato in microwave first. Just to save time.
I loved the little hit of garlic on these, I adore potato skins at the best of times, but with a little garlic it really made them special! I served them with sour cream and salsa and they went down very well!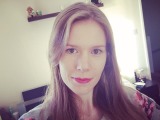 Yummmmm.. the garlic adds a great touch. Even better then the restaurants potato skins.