Garlic Pork Roast (For the Slow Cooker)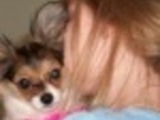 We have this on a regular basis because the local grocery often run sales on pork. Takes about 15 minutes in the morning and dinner is ready when you get home. House smells good when you walk in too!
Directions
In 12-inch skillet, heat oil over medium-high heat until hot. Place pork roast in skillet and cook until just browned on all sides.
Transfer pork to 5 to 6 quart slow-cooker pot, sprinkle with salt and pepper. Add broth, onion, garlic, lemon peel, potatoes and carrots to pot. Sprinkle with thyme.
Cover slow cooker with lid and cook pork and vegetables on the low setting 7 to 8 hours or until pork and vegetables are tender. Skim any fat from broth. Serve pork with vegetables and broth.
Most Helpful
What a tasty and tender roast! I did not use any lemon as last time we used lemon peel/rind in a slowcooker, the veggies were inedible. Even without the lemon, everything else turned out great! If your pork roast has a small fat cap on it, i suggest when browning the roast, really let that fat cap crisp up before placing in slow cooker, and place roast with the fat cap up.
Loved the recipe but doubled the broth and vegetables and instead of using garlic cloves I used garlic powder instead and rubbed the roast with it before browning in EVOO. I omitted the lemon entirely due to past reviews of it tasting bitter and then put all of the veggies in a bowl and tossed with parsley. It was fantastic. I aslo made some garlic bread to soak up the gravy. Nice and easy for a meal without a ton of prep. Great for the mom on the go.
My wife and I are new to the Crock world but this was fun and easy. The pork turned out great but the veggies were off a little. I believe it was the lemon that got us. We tried 8 thin slices 3x1/2 of lemons. We will do this again and try it with zest, or not use Lemon at all. Awesome altogether though.