3 Reviews
Great pizza. Made the recipe just as written but sprinkled on some extra garlic powder rather than the extra parmesan.

This was very good, and I added some chopped chicken as well. I used podapo's pizza dough Pizza Dough and added some minced garlic to the dough with terrific results! Thank you Katrina for a simple but tasty pizza! :)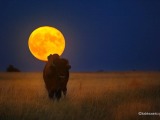 I have been looking for this recipe for years, without seeing this one. A favorite dish from Torre's Pizzeria in Kansas City is White Pizza. I've tried every combination of garlic, butter, olive oil, and cheese and didn't come as close as this recipe. I added mozzarella instead of the extra Parmesan. I used Karin's Easy Peezy Pizza Dough #35805, and this was great! DH loved it! Next time I'll follow the directions and not add all of the butter mixture to the pizza. When it melted, it went off the stone and made a bit of a mess. Small price to pay!
Garlic Pizza